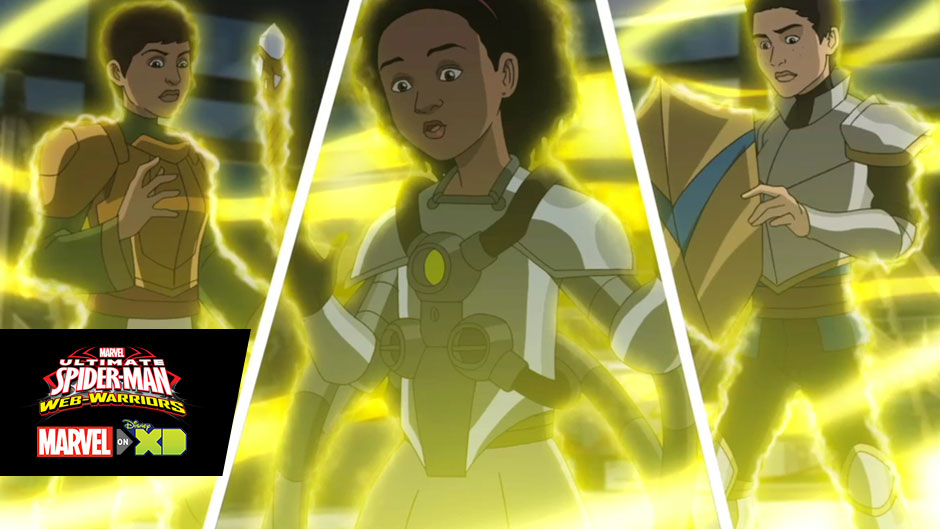 In a special Halloween edition of "Marvel's Ultimate Spider-Man: Web-Warriors," the cast of Disney's "Jessie" joins Spidey for a Halloween mystery! Although Peter Parker tries to keep a low profile, Spider-Man has had a lot of famous friends swing by the pages of his comic books. Take a look at some of Spider-Man's other brushes with celebrities in the comics and tune in to catch the Halloween episode on Friday, October 10 at 9:30 p.m. ET on the Disney Channel!
Johnny Carson – THE AMAZING SPIDER-MAN #50, #99 and #305 (1963)
Johnny Carson had a long reign as the king of late night television, as proved by his multiple appearances in THE AMAZING SPIDER-MAN! Unfortunately, Carson's first appearance is to let J. Jonah Jameson appear on "The Tonight Show" in an attempt to slander Spider-Man. Carson redeemed himself with his next two appearances, where he let Spider-Man appear to promote his heroic qualities. Clearly Carson knew he wasn't the only one with a good "swing."
Abraham Lincoln – THE AMAZING SPIDER-MAN PRESIDENTS' DAY SPECIAL (2009)
To celebrate President Lincoln's 200th birthday, Matt Fraction wrote a six page digicomic featuring Spider-Man and Captain America traveling back in time to visit Honest Abe! Andy Macdonald's art made Abe look great for being 200 years old.
Barack Obama – THE AMAZING SPIDER-MAN #583 (1963)
In this issue's back-up story "Spidey Meets the President!," President Obama has been kidnapped by Chameleon. The plan is to impersonate Obama on Inauguration Day to be sworn in as President, but Spider-Man and Vice President Joe Biden have their own plans! Biden helps Obama escape and Spidey grills both Obamas and figures out the true Commander-in-Chief based on their answers.
Cast of "Saturday Night Live" – MARVEL TEAM-UP #74 (1972)
Spider-Man decides to take Mary Jane to a taping of "Saturday Night Live," but in typical Spidey fashion, they arrive late! Spidey has to find other ways to get into the taping, and in doing so, spots the Silver Samurai. While trying to stop Silver Samurai, Spider-Man bumps into "Saturday Night Live" cast members like Bill Murray, Gilda Radner, John Belushi, and more! Not enough star power for you? The man in the audience who notes that the live taping wasn't as good as the rehearsal is none other than Stan Lee!
Stephen Colbert – THE AMAZING SPIDER-MAN #573 (1963)
In the back-up story this issue "Lo There Shall Come, This Man…This Candidate!," Stephen Colbert is running for president. Disappointed with the crowd turnout, he takes of his "uniform" of a suit and tie and throws them in the trash. Spider-Man shows up to prevent the Grizzley from attacking Colbert and is defeated when Colbert drops a statue on Grizzley's head. Spidey rebuilds Colbert's confidence, but never ends up becoming the president.
Tune in to the Halloween special of "Marvel's Ultimate Spider-Man: Web-Warriors" airing tonight on the Disney Channel at 9:30 p.m. ET! Make sure to stay tuned to Marvel.com for all the latest on your Friendly Neighborhood Spider-Man.