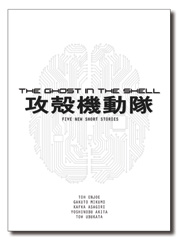 The release of the Hollywood blockbuster "Ghost the Shell" has shined the spotlight on this iconic sci-fi franchise, and has reignited interest in the many different representations of its universe—from the original manga and its anime adaptations, to the recent official movie tie-in novelization and a coffee table book featuring art from the film.
Vertical has taken a different approach by publishing THE GHOST IN THE SHELL: FIVE NEW SHORT STORIES. These works of fiction are the result of a challenge to some of Japan's foremost sci-fi novelists to create their own visions of the near-future universe of Ghost in the Shell.
The five writers—Toh EnJoe, Gakuto Mikumo, Kafka Asagiri, Yoshinobu Akita, and Tow Ubukata—have more than met the challenge. Their contributions are all imaginative, page-turning interpretations that add new depth and dimension to the canon, while staying true to the essence of the source material.
It's still a world of conflict between nations, where corporations dominate and technology rules. But rather than making humans obsolete, these technological advances have been harnessed to enhance the bodies and brains of mere mortals—if they can pay the steep price.
The stories in the collection are for anyone who enjoys exciting, well-executed science fiction. If you're new to the franchise, they're a fitting introduction to the premise, setting, and characters. If you're already a fan, they're indispensable reading, as the authors offer provocative, engaging, and thoughtful explorations of the main themes: What is the self? Is there such a thing as a soul?