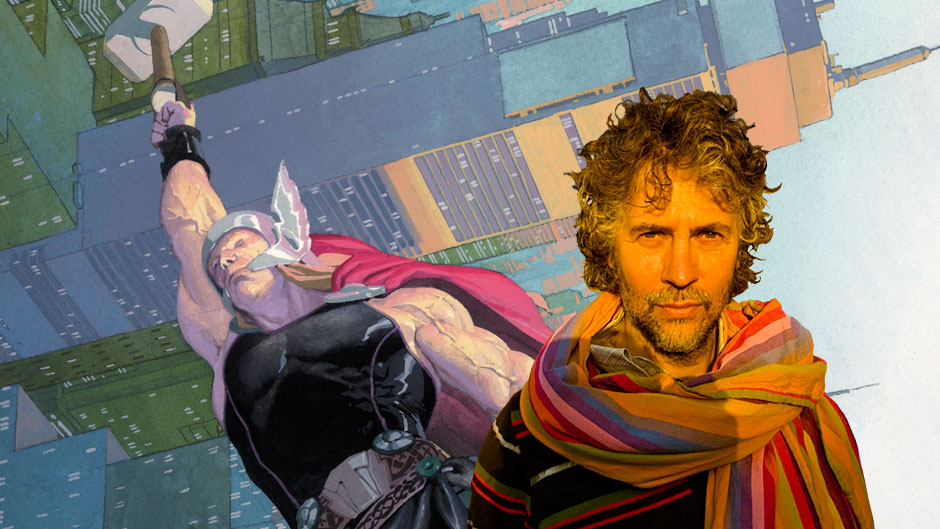 Wayne Coyne is a busy man.
If fronting the psychedelic rock band The Flaming Lips didn't keep him busy enough, he recently started a new group with Lips drummer Steven Drozd entitled Electric Wurms. And on top of all that, he's writing and illustrating a comic called "The Sun Is Sick" with issue #2 out now.
We recently spoke with Wayne about why he wanted to make a comic, working with Miley Cyrus on the band's new record, growing up with Spider-Man, and much more!
Marvel.com: I'm going to throw out some super heroes and I want you to give me your first memory of them. Okay, Spider-Man.
Wayne Coyne: I think that my older brothers. I [think] that they had the very first issue. We would look at it all the time. Peter Parker, he's kinda shy. He's kind of a dork and his uncle gets killed which isn't the way that people play comics out now. You know, it's all fantastical [expletive]. We were so young and so to think that our family or someone in our family is killed—I remember all that sticking with us like "That's why he's a super hero!" Because he's getting this vengeance and it really seemed like a cool thing for a young dorky guy like that to do. Of course, you don't know what you're really up to. You can't really be a Spider-Man. You know, it's not real. There was a time that when you thought that when we got older we would be Spider-Man, Spider-Man-type dudes. And we'd go out and beat people up in our weird costumes. We love Spider-Man. He's a teenager. He's a dork.
Marvel.com: What about any of the Avengers like Thor or Captain America or Hulk?
Wayne Coyne: Yeah. Love them. I love Thor. I like that's like battling God or something; God with a cool looking helmet on. He always had some galactic thing that he had to make right. You can do a lot with that [expletive] hammer. I love that. All those drawings and stuff are very psychedelic. There's always some galaxy exploding or something.
Marvel.com: You have the second issue of your new comic "The Sun Is Sick" out now. What is that like?
Wayne Coyne: I like the idea like "Oh it's continuing a story" which I have no [expletive] idea where it's going. So like the way I did the second one, I would just make anything up that I thought was four or five pages. It has nothing to do with anything. And then, if I can, I'll connect it into the ongoing story and the second one I thought was…I really like that it goes these other places and it's not just following the character down the road. It's like suddenly we jump into the future and this happens but it ties into this. I love having the freedom of time. Time is whatever I want it to be. We can jump into the future. We can jump backwards. We can jump sideways. It just doesn't matter. Sometimes working in that panic of "What am I going to do?" is the best thing; because you go "Oh, I don't know so I won't do anything. I'll just start drawing something that I like." And there's been somewhere I'll draw four or five pages and then never really find a way to fit it in. I don't worry about it too much.
Marvel.com: Tell us about Electric Wurms.
Wayne Coyne: With Electric Wurms, it was probably well over a year ago that Steve [Drozd] and I sort of decided that we would have another thing that would not have to be so "Wayne-ish." It wasn't Steven that was saying it. I think we both agreed that we would try things that didn't have to keep the themes and the ideas and the identity of the Flaming Lips and just see where that took us. We had no desire to not be in the Flaming Lips. But sometimes you start shaping a song and you feel the light or the tug of another song that you've done and it pulls you or whatever. And I think we were just trying to be like "what if we didn't have any of that baggage, good or bad, and just said we're going to be another group?" And that's what it is. I think it still sounds a little bit like both of us. But we're hoping that it just sounds like music that you can listen to and say "Oh what is that? That's cool." And you could say "That's the Electric Wurms." And they say "Oh, cool." That would be the end of it and then like a year later you'd find out that "oh, it's those guys from the Flaming Lips. Oh, now I don't like it." We do so much weirdo recording that it's just like "let's do this other thing." And it's just fun. You know? It's fun. To me, it's a little bit like I get to have another character that isn't me. I get to think about this group, the Electric Wurms, and what do they do? And what's their trip? It's fun.
Marvel.com: You're also doing the tribute to "Sgt. Pepper's" on top of this. How do you have the time to do all of this stuff? And how did you get involved in wanting to do this tribute record?
Wayne Coyne: Well, you don't know that you can make the time. You just sort of do it and because we've already done almost 16 or 17 records you go "Well, we probably can do it if we just say we're gonna do it and we start to do it." Music and art is like that. Some things you do them and you think it's going to take you an afternoon and it takes you a year and other things you think are going to take a year and they just take an afternoon. It's really always wide open as to how long and how much of your energy and everything is going to be needed. I would say that I never think about that. If something comes up and I want to do it, I just do it. We were always considering that we would do another record. We've done the Pink Floyd one and the King Crimson one and the Stone Roses and we're always [expletive] around with something. We just have so many friends coming around to the studio. We hadn't really decided that we would do anything and then we did the museum show last year and we did a big John Lennon Beatles set in the middle of a bigger show. And that got us working on "Lucy in the Sky with Diamonds" which was like the best one of that batch. Then we played that. We had a couple of shows around New Year's Eve and we played that and it really got a great response. We had a big light show and all that sort of stuff. And so I think people started to think of us as a group that does "Lucy in the Sky with Diamonds" as something. Then we did it on the David Letterman show and that pushed it a little further that the Flaming Lips do "Lucy in the Sky with Diamonds."
Then we ran into Miley Cyrus. That just sounds like the beginning of a Coen Brothers movie: "Then we ran into Miley Cyrus and next thing I know…here we are." So we'd been doing some things with Miley and we just became friends. She had been a fan for a while and you know; she's crazy and funny and cool. When you're around Miley Cyrus, I sort of compare it to being around Damien Hearst. You know, if you're around her, you're going to do music. That's what she does. And if you're around me, you're going to do some music and you'll do some freaky [expletive]. It was pretty good together and we started to do some shows together. Then on her day off after one of these shows, we did some recording together and we recorded quite a bit of stuff. But one of them was the "Lucy in the Sky with Diamonds" track and the "Day in the Life" track. They just were stellar. We already had a great sounding arrangement and then her singing sort of put it to the next level and then Dave Fridmann really loved all the stuff. And he really set to doing something really insane with the sound and the dynamics of the whole thing. So we walked out of that with this really great track which sort of made us think "what are we gonna do? We've got a great track with Miley Cyrus on it." Then we did this awards show with her, the Billboard Awards in England, and it just was kind of ballistic. It was a great performance. We did it in front of an audience like one of her giant concerts and we did it four or five times and people just loved it. I wore this weird costume and all kinds of [expletive]. And then it just sort of became a thing and that made us think that we should just see if we can make this a whole record. We didn't know what to do. But I knew quite a few people and I had already asked some people. I talked to Jim James in My Morning Jacket. Before we knew, we had three or four tracks that were already really good and that pushed us along to get through the ones that would be more difficult. But it started with "Lucy in the Sky."
Marvel.com: What, besides all this, do you have upcoming that fans can check out?
Wayne Coyne: The Electric Wurms, which is brand new; we've only played two shows. Then there's this Beatles thing. I can't imagine that anyone would want anything more to do with us really. But I do love the comic book. I love talking to you about that. I really do. It's like one of the only things that I do that I just do by myself. So I love it. In-between all the things that have to have someone else involved—I need them or want them or whatever; sometimes it's just like 10 minutes and I just draw a little picture and I add it into the story and I color it and [expletive] and it's awesome. Everybody should have a comic book.
You can keep up with Wayne on Twitter @waynecoyne and pick up his comic at flaminglips.com. The band's upcoming album "With a Little Help from My Fwends" will be out October 28.