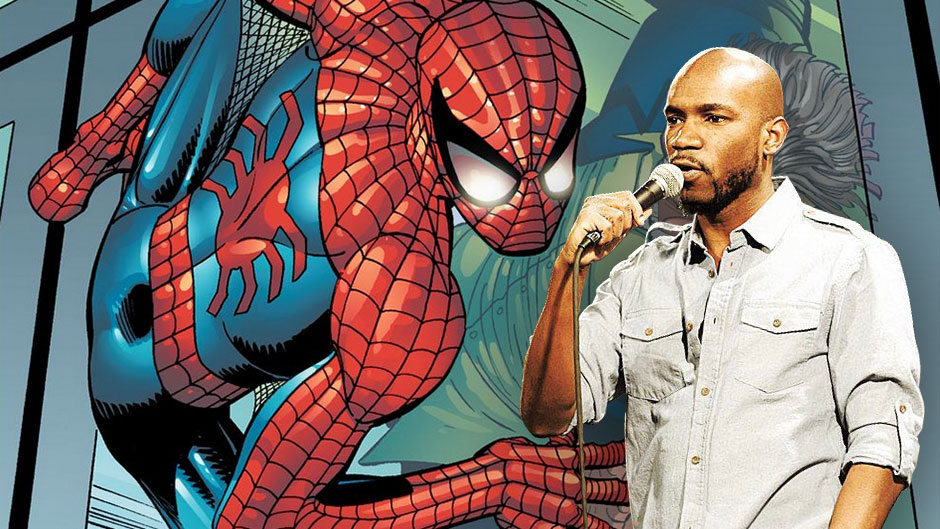 You might not know comedian Ian Edwards, but you definitely know his work.
Formerly a writer for "Saturday Night Live" and a performer on "Family Guy," "Punk'd" and "The Boondocks," Edwards recently saw his debut stand up album "100% Half-Assed" picked to be the first on Conan O'Brien's new label Team Coco Records.
Edwards talks to us about his experience making the record, growing up in Jamaica reading Spider-Man comics, who he could beat up from the X-Men and much more!
Marvel.com: Congrats on being the first comedy record released on Conan O'Brien's comedy label. How did you get involved with him in the first place?
Ian Edwards: Still trying to figure that out. I just know that the last time I was doing "Conan" I was sitting in the green room and JP Buck, the producer, was like "Yeah, man we're thinking about doing a label, like we have the ability to do it. You ever thought about doing an album?" I was like "Yeah. Matter of fact, me and my manager were looking for labels and stuff." So then after the show, a few weeks later we talked to make sure just to see if they were serious and then once we realized they were serious, we were like "Let's do it." It's a great place to do an album.
Marvel.com: The press has been going crazy for this. What's that experience like?
Ian Edwards: It's cool, man. It's cool. I remember going to a big comedy event at this big…I forgot the name of the place; it was like Universal Studios. It was a big huge theater; it was almost like a Madison Square Garden. There was a big comedy show with all these top comics. And when I went back stage, all the comics knew me and all the people back there were in the industry. But when I walked out to the audience with two comic friends to sit down and watch the show, nobody in the audience knew me. And I've done a lot of work but nobody knew me. So this just gives people a chance to know me.
Marvel.com: Since this is your first stand up record, what was that experience like?
Ian Edwards: It was fun. It's material that should've already been on an album. And I've moved on to newer stuff but I was like "You're gonna have to start rehearsing." Time was coming up to record it and so you gotta start going over this stuff. The night you're taping…you get used to saying things sometimes and then you can get out of used to saying things. I kinda had to do my sets around town and do new material so I can get used to saying them. Then I found a place where I could have fun saying this stuff. I realized I'm not gonna do any or most of that material ever again. So this is the last time you're gonna do it, have fun with it. And I had fun.
Marvel.com: Were you ever into Spider-Man or X-Men or the Avengers as a kid growing up?
Ian Edwards: Here's my weird experience with it. So I grew up reading comic books. I grew up in Jamaica. Spider-Man, [Avengers], just anything I could get my hands on, just everything. And then at some point I departed from it and then the movies come out and I watch the movies and I feel like there's a detachment between me and the people. Like I didn't know somehow how big a movie deal was until the movies started coming out. I feel like I have a lot of catching up to do and I feel like an outsider.
Marvel.com: If you had to pick a favorite Avenger or X-Man, who would it be and why?
Ian Edwards: I would go with Thor. I would always look for who has the most power or who was the most undefeatable and he can do everything. He had superhuman strength. He had the hammer. When I looked at everybody, if it came down to it, he can't really be beat. Iron Man is just his suit and Hulk he's strong but he's Hulk. He ain't smart. I just felt that [Thor] was the best.
And then for X-Men, I'd go Wolverine. Again, his whole thing is that he can't be killed. He'll just grow back. And he has the strength. He has the important things. Like Cyclops? That's like a BS power. I could defeat him easy. Storm? It's like, yeah, it's whatever. I think she could be got to. Professor X, I might be underestimating him but I would still go with Wolverine. Rogue—I don't believe in her power. You know who's dope? The villain who used to be good and then she can mutate into anybody?
Marvel.com: Oh, Mystique.
Ian Edwards: Mystique. That's pretty powerful. That's some powerful [expletive].
You can currently see Ian's writing on ABC's "Black-ish" and check out his tour schedule on his web site. Follow him on Twitter at @IanEdwardsComic and pick up his new stand up album here.