Follow Your (Comic Earth Star) Dreams.
"Cruising the Crunchy-Catalog" may not be able to aid you in landing that dream job in the anime or manga industry, but we can help you pick out a new series to watch. Each week, we provide additional info and cultural context for a Crunchyroll catalog title to help anime fans decide whether or not they'd like to take it for a spin.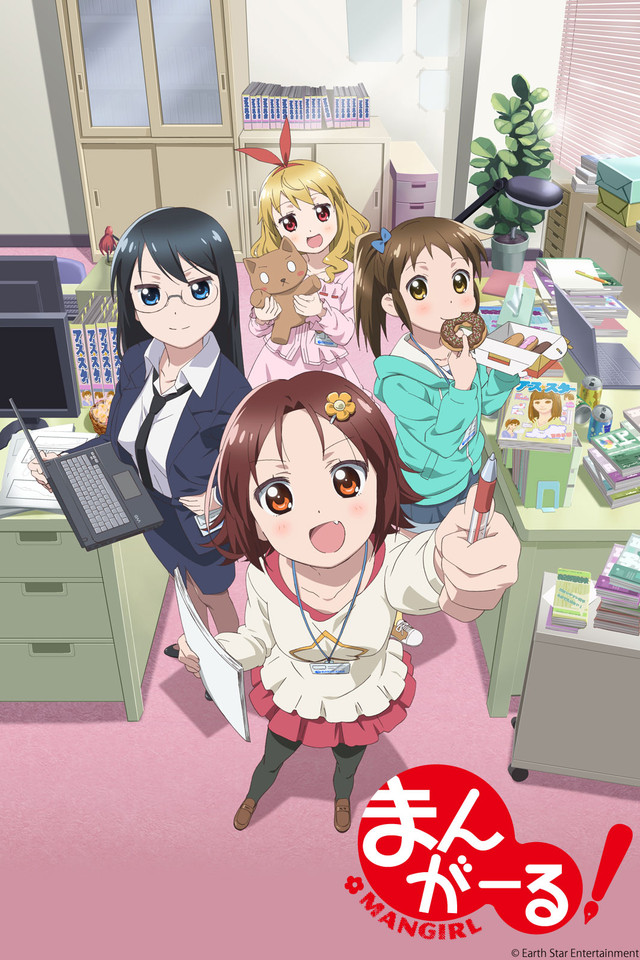 What's Mangirl!?
Mangirl! is a 2013 short form TV anime with direction by Nobuaki Nakanishi and animation by Doga Kobo. The series is based on the 4-panel comic by Kagari Tamaoka, which was serialized from 2011–2013 in Earth Star Entertainment's Comic Earth Star manga magazine. Crunchyroll describes Mangirl! as follows:
"We're going to launch a manga magazine! A team of girls with zero experience in manga editing are off and running toward their dream of creating the biggest manga magazine in Japan! They seem to do nothing but run into problems and failures… But still they're working hard every day!"
A fictionalized version of life at the Comic Earth Star offices, Mangirl! follows the production of a new manga magazine from the publication of the first issue all the way to its one year anniversary, along the way presenting many comical scenarios that no doubt contain more than a few kernels of truth about the rough and tumble world of the Japanese comics industry.
Short and Sweet.
Mangirl! is a short-form anime, with each of the 13 episodes clocking in at 3 minutes and 30 seconds in length, including the opening theme and next episode preview. This means that you can marathon the entire series in just over three quarters of an hour, so the length of the series is not a serious barrier to entry. (It's certainly quicker than editing a manga magazine.)
Seizing the Memes of Production.
There are quite a few anime and manga about the creation of manga from the perspective of the artists (such as Monthly Girls' Nozaki-kun, another Doga Kobo production), but Mangirl! takes a less common approach by focusing extensively on the editorial staff as they wrangle artists, juggle deadlines, and seek out hot new prospects to enthrall the readers.
This allows the the series to explore subjects that often get little attention, such as the economics of print publishing, the role of the editors in shaping and guiding the artists' creative visions, and the distributors attempting to navigate byzantine layers of middle management in order to get their product on the shelves of Japanese bookstores.
Wallowing in the Details.
By concentrating on the minutiae of production and publication, Mangirl! draws attention to aspects of the artistic process of manga creation that can be both entertaining and educational. For example, one episode focuses almost exclusively on how different font shapes and sizes affect how a panel is processed, while another drives home how much work goes into organizing research trips and gathering reference photos.
A Job Well Done.
Crunchyroll currently streams Mangirl! in 71 territories worldwide, including the United States, Canada, Australia, New Zealand, South Africa, the United Kingdom, Ireland, Finland, Denmark, Norway, Sweden, and the Netherlands. The series is available in the original Japanese language with subtitles in English, Latin American Spanish, and Portuguese.
An additional episode of Mangirl! was included as a bonus OAV with the Japanese Bluray release of the series, but unfortunately this bonus episode has not been licensed, and there's currently no commercial home video versions of Mangirl! distributed in North America. The original manga hasn't been licensed, either. What you stream is what you get.
Mangirl! is a series that is punchy and positive, poking fun at the challenges of turning a passion into business without coming across as too cynical or sharp. If you've ever dreamed of turning your pet project into a glossy comic book, if you're in the mood for some quick laughs, and if the series is available in your area, please consider giving Mangirl! a try.
Is there a series in Crunchyroll's catalog that you think needs some more love and attention? Please send in your suggestions via e-mail to cruisingcrunchy@gmail.com or post a Tweet to @gooberzilla. Your pick could inspire the next installment of "Cruising the Crunchy-Catalog"!
—
Paul Chapman is the host of The Greatest Movie EVER! Podcast and GME! Anime Fun Time.