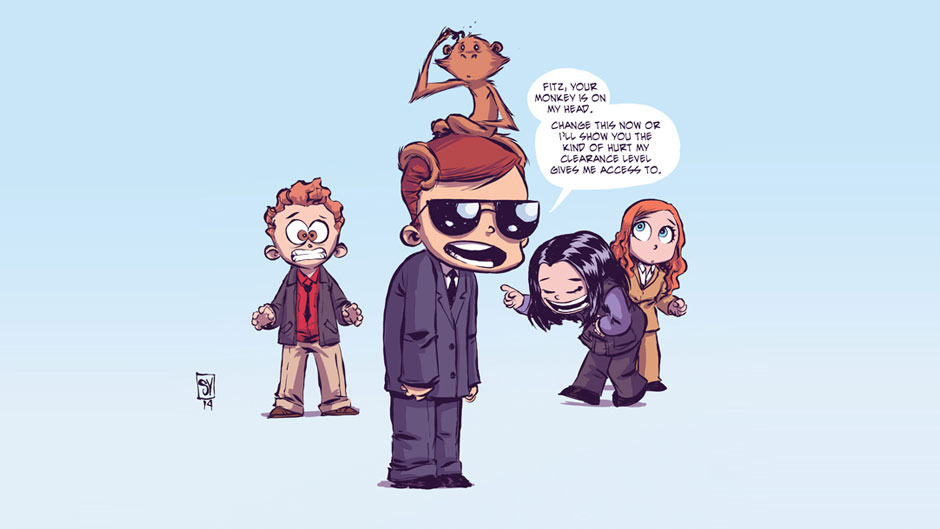 This December, Agents Coulson, May, Fitz, and Simmons come to the comic book Marvel Universe–and who better to welcome them than Skottie Young!
Check out the acclaimed artist's variant cover below, then read S.H.I.E.L.D. #1 by Mark Waid and Carlos Pacheco in December!
S.H.I.E.L.D. #1
Written by MARK WAID
Art by CARLOS PACHECO
Covers by JULIAN TOTINO TEDESCO, MIKE DEODATO, SKOTTIE YOUNG & MORE!
• High-tech weapons. High-stakes missions. High-octane adventure! For the men and women of S.H.I.E.L.D., it's just another day in the field!
• Special Agent Phil Coulson brings together the best and the brightest, the gifted and the elite, normal people and superhumans from across the Marvel Universe on an as-needed basis to confront, combat and curtail dangers beyond the scope of any conventional peace-keeping force!
• Writer Mark Waid (DAREDEVIL) and a rotating crew of mission-specific top flight Marvel artists make you one promise: Every issue: Twenty pages. One mission. Unlimited budget. Unlimited imagination. Six periods. And a helper monkey. Welcome to Level Eight. Welcome to S.H.I.E.L.D.
40 PGS./Rated T+ …$4.99
See upcoming MARVEL MAILERS for details on how to qualify for the S.H.I.E.L.D #1 LAUNCH PARTY!
Plus, details on how to order the MARVEL 2015 CALENDAR!