Considering Agent Coulson and his team have to track down a mysterious young man with a unique gift while also dealing with a potential traitor in their midst, it should come as no surprise that Clark Gregg doesn't seem too happy in our exclusive look at this week's all-new episode of "Marvel's Agents of S.H.I.E.L.D."!
To see just what's gotten to Coulson, tune in live to ABC Tuesday at 8:00 p.m. ET, and in the meantime keep your eyes on Marvel.com as well @AgentsofSHIELD on Twitter and "Marvel's Agents of S.H.I.E.L.D." on Facebook for all the latest news!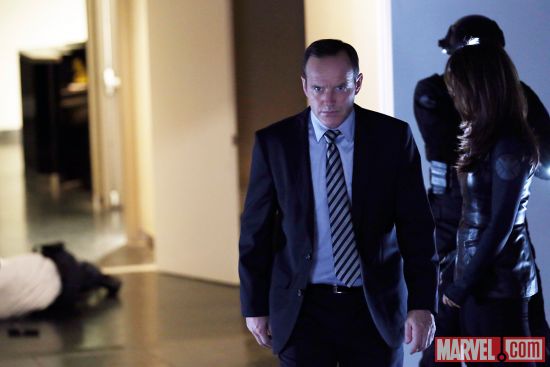 Clark Gregg reprises his role of Agent Phil Coulson from Marvel's feature films as he assembles a small, highly select group of Agents from the worldwide law-enforcement organization known as S.H.I.E.L.D. Together they investigate the new, the strange, and the unknown across the globe, protecting the ordinary from the extraordinary. Coulson's team consists of Agent Grant Ward (Brett Dalton), highly trained in combat and espionage, Agent Melinda May (Ming-Na Wen) expert pilot and martial artist, Agent Leo Fitz (Iain De Caestecker); brilliant engineer and Agent Jemma Simmons (Elizabeth Henstridge) genius bio-chemist. Joining them on their journey into mystery is new recruit and computer hacker Skye (Chloe Bennet).
From Executive Producers Joss Whedon ("Marvel's The Avengers," "Buffy the Vampire Slayer"); Jed Whedon & Maurissa Tancharoen, "Marvel's Agents of S.H.I.E.L.D." pilot co-writers ("Dollhouse," "Dr.Horrible's Sing-Along Blog"); Jeffrey Bell ("Angel," "Alias"); and Jeph Loeb ("Smallville," "Lost," "Heroes") comes Marvel's first TV series. "Marvel's Agents of S.H.I.E.L.D." is produced by ABC Studios and Marvel Television.