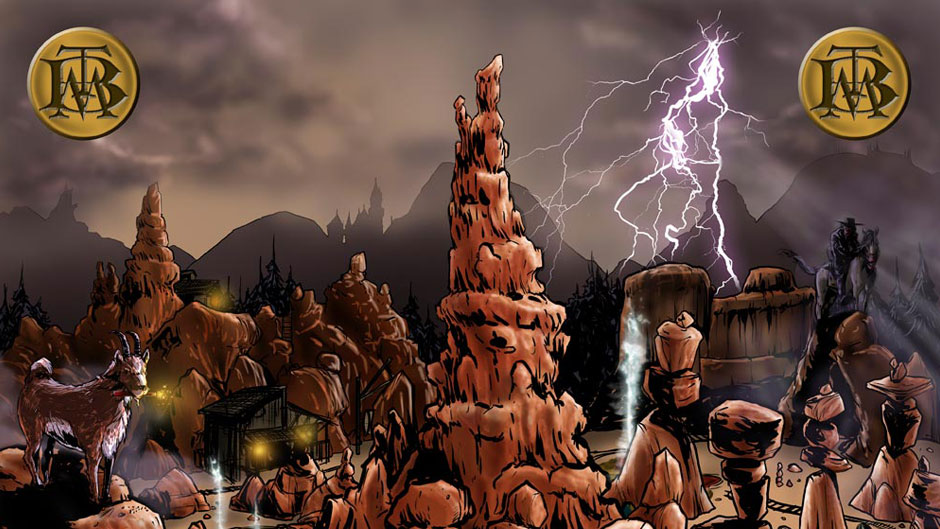 That loud noise chugging towards you? It arrives March 2015 and has a name: BIG THUNDER MOUNTAIN RAILROAD.
This five-issue limited series by writer Dennis Hopeless and artist Tigh Walker is the newest adventure under the Disney Kingdoms imprint, the historic collaboration between Marvel and Walt Disney Imagineering.
"After the sold-out success of our last Disney Kingdoms series, [SVP Print, Sales & Marketing] David Gabriel, assistant editor Mark Basso, and I immediately began talking to Imagineers Josh Shipley, Brian Crosby, Andy DiGenova, and Tom Morris about what our next story could be," explains editor Bill Rosemann. "We've done supernatural—SEEKERS OF THE WEIRD—and steampunk—FIGMENT—so we decided to continue offering readers genre variety by heading to the Wild West!"
When it came to who could help transform this world-famous attraction into a Marvel comic, Rosemann reached out to experienced collaborators known for delivering gritty action and jaw-dropping twists.
"Diving into the background ref that the Imagineers supplied, I was intrigued by a young female character mentioned in the Disneyland Paris version of the attraction that I thought would make an exciting protagonist," he recalls. "Once the Imagineers agreed, I knew Dennis and Tigh—who did such amazing work with their teen cast when we worked together on AVENGERS UNDERCOVER—would be the perfect fit for this."
Hopeless, for his part, became immediately interested.
"I loved the idea of a Gold Rush Western that's also a larger than life Disney adventure," he enthuses. "Masked Bandits. Gun Fights. Train Robberies. Dynamite. Gold. The Old West is such a cool setting and we get to do the full throttle, no brakes version."
Of course, to get from the ride to an intense, exciting comic, one needs to build a world and create characters, a task the writer found himself thrilled to undertake.
"I've always loved building characters from the ground up," asserts Hopeless. "I'll start developing character back-stories, personalities and voices before I've even fleshed out a plot. It's my favorite part of the process and something I do for every project.
"Our hero is Abigail Bullion, the teenage daughter of Big Thunder Mining Company owner Barnabas T. Bullion," he continues. "Abby moves to Big Thunder after her mother's death and finds her gold-obsessed father locked in battle with a mountain. Winner keeps the gold. Abby will have to pick a side before her father's greed and nature's fury conspire to destroy the town and everything in it."
AVENGERS UNDERCOVER collaborator Tigh Walker aids and abets Hopeless in ensuring the world and characters feel honest and true.
"I love working with Tigh," proclaims the writer. "He makes my job easy because he's such a fantastic storyteller. His art pulls you through the story panel by panel and tells you everything you need to know.
"Somehow he manages to marry that clarity with so much energy and life," Hopeless adds. "The action and character just jump straight off the page."
Depth also comes from the revelation that each of the Imagineer series have not unfolded in a vacuum.
"If all goes well, one day readers will see how all of the stories are interconnected," reveals Rosemann. "That's right, the adventures may be taking place during different time periods, but it's our intention to create a cohesive 'Disney Earth' where all of these stories are taking place."
Taken as part of a whole or on its own, however, the editor feels certain fans of Marvel and Disney alike will fall for BIG THUNDER MOUNTAIN RAILROAD.
"Disney and Marvel both tell stories full of adventure, drama, humor, romance, brave heroes, and dastardly villains," promises Rosemann. "We start with the world's most amazing attractions, delve into priceless reference, brainstorm with the Imagineers, and then mix with Marvel magic. And as with SEEKERS OF THE WEIRD and FIGMENT, this new Disney Kingdoms adventure will spotlight an amazing creative team ready to wow the world!"
Elements based on Big Thunder Mountain Railroad © Disney