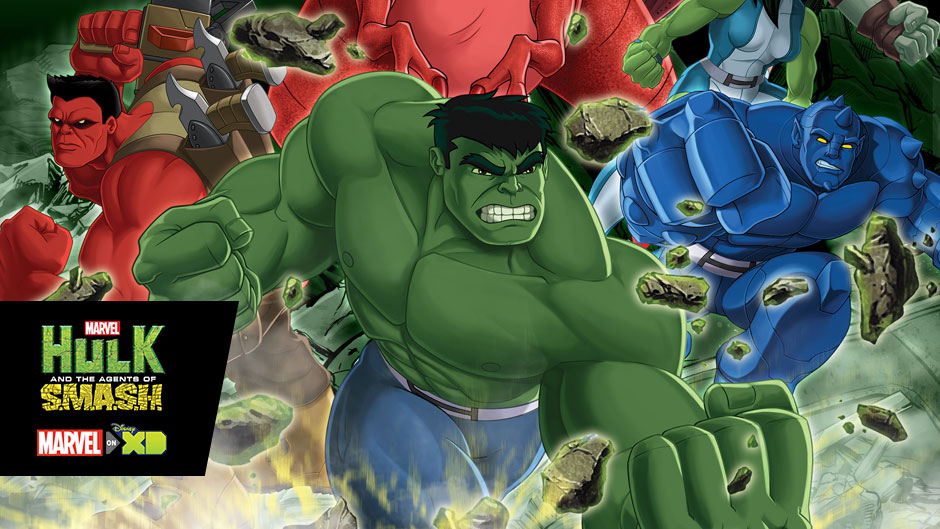 The Hulks are returning for bigger, badder adventures in a second season of "Marvel's Hulk and the Agents of S.M.A.S.H." and we talked to the show's Supervising Producer Harrison Wilcox! Take a look at what you can expect to see in Season 2 and who the Hulks will be squaring off against. We also have the debut of brand new Season 2 art! Read the interview below and make sure to tune in to the season premiere this Sunday at 8:00 a.m. ET on Disney XD.
Marvel.com: Creatively speaking, what is your team trying to do with Season 2 that is different from, or similar to, what you did in Season 1? What was the creative approach to this season?
Harrison Wilcox: The creative team for Season 2 includes Henry Gilroy as our story editor, Paul Dini, Todd Casey, Jeph Loeb, Cort Lane, Steve Wacker, Wendy Wilming and Joe Quesada. This is a Hulk show so we all wanted to see how much more smash we could put into it. We wanted to make the show even bigger than Season 1, if that was possible. Not just in the action, but in the scope of the storytelling. We wanted to tell some multi-episode arcs that took our Hulks to some interesting places…both from a character and from a plot perspective. The first arc, for example, has Hulk and the Agents of S.M.A.S.H. lost in space, trying to find their way back to Earth. They get into all sorts of trouble, bumping into some familiar faces along the way. And we get some very good character stories out of that.
Marvel.com: In the first two episodes of the season, the Hulks cross paths with Ronan the Accuser, Galactus, and Ego the Living Planet. Will the Hulks always be facing off against so many villains? Is it difficult coming up with villains worthy of facing the Hulks?
Harrison Wilcox: We have this huge Marvel toy box to play with so I don't think we'll ever run out of worthy enough villains or ways of pitting our heroes against those villains. But it's a fun challenge, especially when you're dealing with not one Hulk, but five, along with their giant pet dinosaur. Because of how powerful these guys are, we definitely recognize which villains are appropriate for this show. Say, compared to the cast of "Marvel's Ultimate Spider-Man: Web-Warriors" or "Marvel's Avengers Assemble." We've been very conscious of trying to find the biggest and the baddest and the strongest that the Marvel U has to offer.
Marvel.com: The Hulks meet lots of other characters from the Marvel Universe in their adventures. Do you think of who the Hulks could meet and shape a story around that or come up with an episode and think of who else could drop by?
Harrison Wilcox: We always try to start with the character, the emotional story for the Hulks and build around that. But every now and then someone pitches a really cool scenario for the Hulks and in the course of breaking the story we find the character moments that tie it all together. We know there are players and pieces that we want to hit on in the course of the season. Big players like Ronan, Ego, Galactus, The Supreme Intelligence, and High Evolutionary. We try to stop and look at how it all relates to our main characters and go from there. Henry Gilroy is really good at taking any idea that's thrown in the room and figuring out how it all relates back to the Hulks. How the story is connected to our cast on an emotional level and then looping that back into the theme of the arc we're in.
Marvel.com: What's your favorite episode this season? Can we have some hints on what we can expect this season?
Harrison Wilcox: There are a lot of great ones this season but people should keep an eye out for a certain flaming motorcycle. Our Production Team, Eric Radomski, Mitch Schauer, Dan Fausett, Dan Duncan, Patrick Archibald, and Jaime Simone have done a great job bringing the scripts to life on the screen. They've had their work cut out for them this season…we've thrown everything we can into the scripts. Those last few episodes are jam packed and rightfully so for a show about The Hulk.
But for my favorite episode? It's more of my favorite arc and all I'm going to say is Red Skullasaurus.
Don't forget to tune in this Sunday to see the season premiere of "Marvel's Hulk and the Agents of S.M.A.S.H." at 8:00 a.m. ET on Disney XD! And keep your eyes on Marvel.com for all the latest on your favorite Marvel animated series.