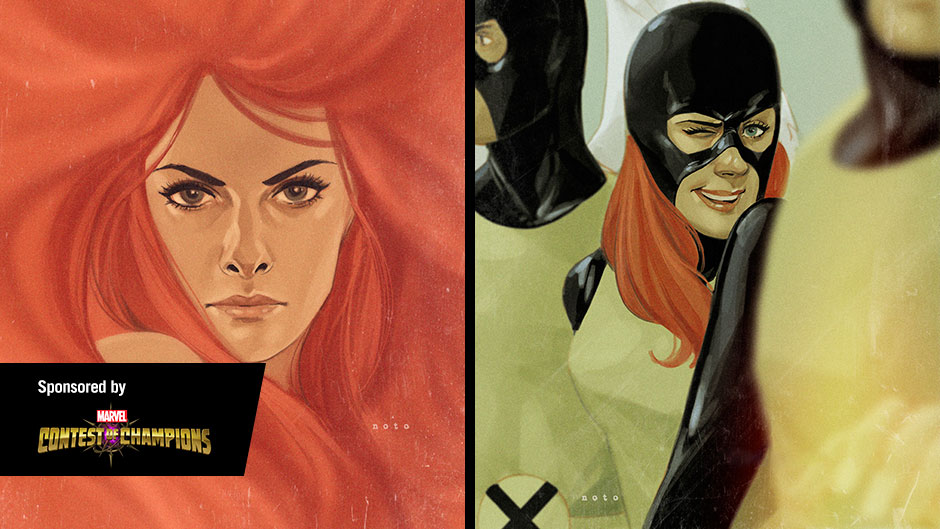 Come February 2015, BLACK WIDOW artist Phil Noto embarks on a veritable trip through the Marvel Universe via a series of 20 stunning variant covers. No one else possesses a view of the Marvel's heroes quite like Noto.
The series slated to feature Noto variants include AMAZING SPIDER-MAN, AVENGERS, NEW AVENGERS, DEADPOOL, ALL-NEW X-MEN, UNCANNY X-MEN, GUARDIANS OF THE GALAXY, LEGENDARY STAR-LORD, ROCKET RACCOON, THOR, CAPTAIN AMERICA, INHUMAN, DAREDEVIL, HULK, ANGELA: ASGARD'S ASSASSIN, DEATHLOK, ANT-MAN, BLACK WIDOW, and S.H.I.E.L.D.
Marvel.com caught up with the one-of-a-kind artist to learn just how an initially personal project inspired this amazing month of variant masterpieces.
Marvel.com: What prompted this idea in the first place for you to do 20 covers for one month?
Phil Noto: It all started when I began posting some retro-candid "photo" sketches on my blog featuring Marvel characters. I had been looking at some old photos of Hollywood stars from the 50's and 60's just hanging out and thought it would be fun to do a comic version of that. I started adding little anecdotal stories to them as told by Hank Pym, the supposed photographer. I don't know why I chose him but I just thought he seemed like a good choice to be a shutterbug and would've been around a lot of these characters. I ended up calling the series the Hank Pym Photo Archives. They became popular on Tumblr and Jeanine Schaefer, my editor at the time, really dug them and wanted to do something more with them. We got very close to doing a retro series but it ended up becoming too complicated in terms of schedules, continuity, etc. So I just kept posting some on my blog from time to time.
Cut to earlier this year and I get a phone call from Jeanine with the brilliant idea of doing a series of covers in the same retro style. It was a no-brainer. I'd be able to do the various characters and not have to worry about any specific storyline or anything.
Marvel.com: How honored were you that Marvel is dedicating an entire month to spotlight your talents on its covers?
Phil Noto: Very honored! I'm living the dream right now. I've been able to do exactly what I want in terms of art on the BLACK WIDOW book and now I get to take something that started out as a fun little personal project to the next level.
Marvel.com: Were you involved in the decision process of what 20 Marvel covers you would draw?
Phil Noto: No, but I'm very pleased with the list.
Marvel.com: With any of the covers, is this the first time you have had a chance to draw that particular Marvel character?
Phil Noto: Yeah, it will actually be the first time drawing the Guardians characters and Deathlok, so that's pretty cool.
Marvel.com: What is the biggest challenge to tackling a project of this scale?
Phil Noto: The biggest challenge was just trying to come up with ideas for the specific characters. When I was doing these for fun, I'd have some idea for a scene and then think about which characters would work well in that "photo." This is kind of the reverse process of that. Also, some of the characters weren't around in the 60's and 70's so I've gone back to the idea that Hank Pym is the "photographer" for all these shots and some of them will be David Bailey-esque [English fashion and portrait photographer] portraits along with the more candid ones.
For everything from New York Comic Con 2014, including interviews, panel recaps, a full photo gallery, and more, visit marvel.com/nycc2014 for full coverage, brought to you by Marvel Contest of Champions from Kabam!