Avatar has a trio of vicious trade paperback collections for fans to enjoy in the new April Previews catalog.  These essential collections are shipping in June and are the perfect way to kick off your summer, Avatar style.  Make sure you reserve your copies today with your favorite local comic shop.
Crossed Vol 9 Tpb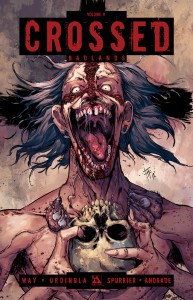 PRODUCT DESCRIPTION: Two very different Crossed scribes open new wounds in the miserable world of the Crossed!  Daniel Way introduces a naval captain and his crew as they attempt to survive the plague of insanity spreading across the globe in "Grave New World."  He's a shrewd man and watching the monsters has given him an insightful plan for saving those in his charge.  But whether it is inspiration or insanity, the crew still faces the gleeful misery of the Crossed.  And Simon Spurrier returns to tell a tale set in the infected outback.  Todd drives a road train through the desolate Australian desert. Before C-day he was a loser, an outcast, a fat nobody with a nobody-job. Now he's an Emperor of the wasteland. His rig and its trailers are the safest place around: stocked to the brim with canned food and gasoline. But his desire to have a harem who worship him opens himself up to the true horrors of the outback.  Spurrier brings his trademark flare for developing intricately flawed characters to a story that will haunt your dreams for years to come.   In a world of Crossed…there is no hope and there is no help.  There is only the Crossed.  This volume collects Crossed: Badlands #44 – 49 and the Crossed Special 2013.  Also available in Hardcover.
Dicks Vol 2 Tpb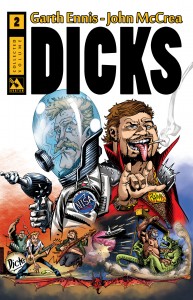 PRODUCT DESCRIPTION:  You've never met two men more crude and down-on-their-luck than Dougie and Ivor! Following their first explosive foray into private investigation, they turn tail and pursue a different childhood dream: taking the world by storm as rock stars. But in true Dicks fashion, the music industry's rife with hedonists and criminals, all out to get the boys from Belfast. Will our favorite scoundrels survive their celebrity with their most precious body parts intact? GARTH ENNIS and JOHN MCCREA, the creative team behind Hitman, deliver their unique brand of over-the-top violence and certain-to-offend humor, just the way you like it! This volume collects Dicks #5-10.
Stitched Vol 3 Tpb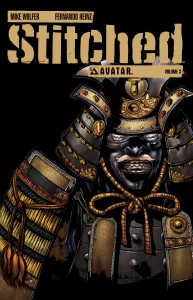 PRODUCT DESCRIPTION: Approached by the mysterious Nameless Ones, Nakamura discovers the secret of the Stitched and uses their soulless drive for destruction to rein misery upon his targets within the criminal organization. Violence and terror drive the Kuroko-Kai to bloody revenge and one slip up by Nakamura will put his family and friends in their vicious sights. But the secret of the Stitched comes with a steep price and his family may ultimately be the ones to pay in blood for his ambition and vengeance! MIKE WOLFER and FERNANDO HEINZ weave a story of ancient evil and terrifying horror, Stitched is a modern masterpiece of darkest nightmare.This volume collects Stitched #14-19.