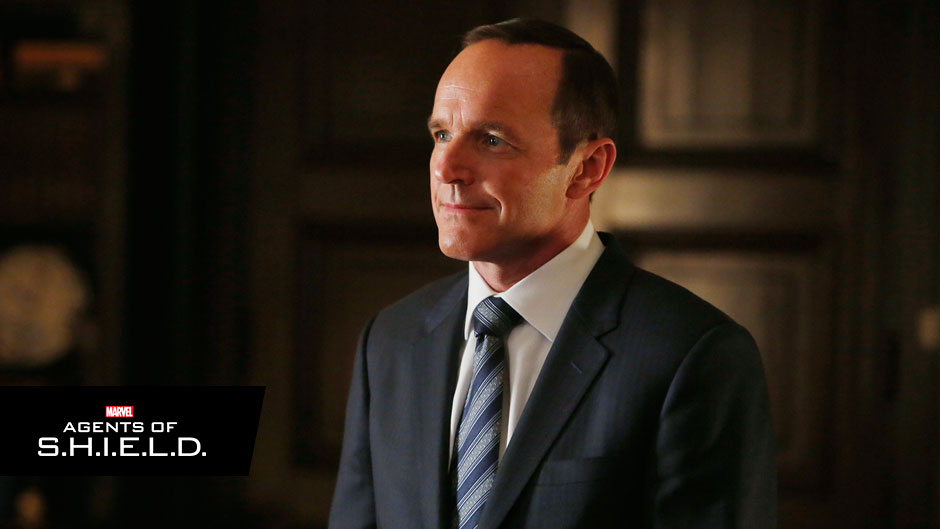 By Chloe Wilson
Last weekend, some of the heroes from "Marvel's Agents of S.H.I.E.L.D." took a break from saving the world and travelled to Paleyfest in New York City. Executive Producer Jeph Loeb and cast members Clark Gregg, Ming-Na Wen, and Chloe Bennet previewed "A Hen in the Wolf House" for fans, while also giving the audience the scoop about being part of the Marvel Universe.
"We are the biggest dorks so it's so amazing to be able to play these cool kick-ass characters," said Ming-Na Wen, who plays Agent Melinda May. "Or maybe I just speak for myself."
"I kinda grew up loving Marvel stuff," said Clark Gregg. "Somehow, Jeph, Jed [Whedon], Maurissa [Tancharoen], Joss [Whedon]–they managed to get people on the show, starting with me, who were fans. We work crazy hours but it's really fun."
The panel, moderated by Matt Mitovich, focused on how Gregg, Wen, Bennet, and Loeb joined the show and what being a part of S.H.I.E.L.D. is like.
Executive Producer Jeph Loeb described the process of getting "Marvel's Agents of S.H.I.E.L.D." off of the ground.
"I grabbed Joss, after Avengers had done a billion dollars, and said 'hey, how'd you like to do a TV show?'" Loeb said. "Oddly enough, he said yeah. But I think, in all fairness, it had a lot to do with Clark. When we first started talking about doing the show, he said 'well, we can't do the show without Coulson,' and I said, 'yeah, well there's a problem with that.' For all we knew Clark couldn't be on the show."
"Turned out I was free," Gregg joked, referring to his availability after Coulson's apparent death in "Marvel's The Avengers."
Wen was as excited as Gregg to join the cast, but her audition story was a lot more nerve-wracking than his.
"When I got the [script] I was so excited. But I was so nervous that I just couldn't memorize two pages of dialogue to save my life," said Wen. "I tried and I tried, but the words would just not stick with me because all I was worried about was how much I wanted this part."
Yet during her audition, Wen said, the producers and writers made her very comfortable.
"I walked away from that audition so buzzed and so excited, and then I got the call when I was in my bathroom taking off my makeup and I screamed," she said. "My kids thought I had hurt myself really bad."
Chloe Bennet, who plays Skye, had a completely different experience.
"I went in six times for the part," Bennet shared. "And I had a friend who was doing 'Nashville' and told me 'my friend is getting close to a part on this show,' and it was Ming. She gave me this great advice to just go in and just be myself and it worked. It's like she really was my [supervising officer], and I got the part because of her."
Fans were curious to learn what this season holds for Skye, especially when it comes to romance between her and (former) Agent Ward.
"Not over my dead body!" Wen said.
"One of the great parts about the show is we don't do take backs," Loeb said. "Things that happen, happen, so whether or not Ward is redeemable is something that you'll come to see, yet Skye keeps finding reasons to go visit."
"He makes me!" Bennet said. "He only talks to me so I have to go."
"And it's weird because I have not had any contact with Brett," Wen added. "I just think that May would just kill him if she had the chance."
The cast also shared that they are not told about plot twists in advance, particularly when it came to Agent Ward's betrayal.
"We have these read-throughs every week," Loeb said. "And it's hilarious to watch them to react to these things. Well, it's hilarious for us."
"We had a top secret screening of 'Captain America: The Winter Soldier,'" Gregg said. "We were like 'this is cool, we get to see this early!' But as we were watching it the popcorn was dropping out of peoples' fingers as you realize 'what are they going to call the show now?'"
Bennet, Gregg and Wen shared the story of how they learned about Ward's betrayal.
Gregg recalled, "We were told 'you think you've read the ending of the script–in fact, you haven't! Here are some red pages,' and they're literally red."
"Red with black ink so they can't be photocopied," Wen clarified.
"It was upsetting! It was really upsetting," Gregg said. "We have been on this journey together and we all love Brett, he's a great guy, a terrific actor."
"And he was part of the team!" Bennet shouted.
"My favorite was that Iain [De Caestecker] just crossed his arms and said 'no,'" Loeb said. "He didn't buy it. He and Brett have a bromance and so he absolutely would not buy it at all. But he doesn't think that anymore."
When asked about acting with Fitz, played by Iain De Caestecker, this season, Bennet and Gregg were excited about the twists in his story.
"I was just glad he wasn't dead," Bennet said. "Being in scenes with Fitz is really, really difficult because he just brings so much in the scene. It's really heartbreaking. But I kind of was excited for him because I knew he would kill it–he's so great."
Gregg added that Iain "is amazing. Watching him embrace this, it's the hardest thing in the world to act as if you can't put words together, because your words are what you have."
Towards the end of the event, the panel shared their excitement for the rest of Season 2.
"'Heavy is the Head' is episode two and it certainly seems that it might become 'crazy is the head,'" remarked Gregg. "It's one thing to be part of a giant, super-secret organization that doesn't have overt restrictions but now we're underdogs. We are what's left of S.H.I.E.L.D., we're the only ones who know how extensive Whitehall and Hydra still is. It's really a challenge and really fun to play."
"We sometimes forget because we're in it so much and we're in the thick of it all the time, we're used to this runaway train," said Wen. "I was working with an actor on our show and he had just come off of doing an action movie. We had to do this fight scene and he was like 'what do you mean we only have three hours?' And I'm like, 'Welcome to S.H.I.E.L.D.!'"
"And then you punched him in the face," Gregg added.
"Yeah," Wen admitted. "I kneed him in the groin."
"Have you had a fight with a male character that you haven't kneed in the groin?" Gregg asked.
"To be clear," Loeb said, "it works."
Tune in to "Marvel's Agents of S.H.I.E.L.D" on Tuesdays at 9:00 p.m. ET on ABC, and stay tuned to Marvel.com for all the latest on Marvel TV.