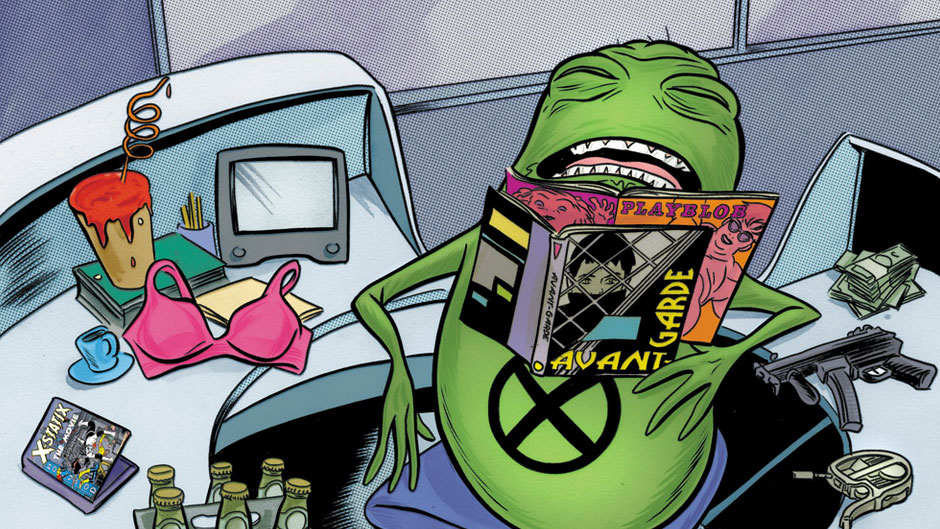 While it may be home to its fair share of hostile aliens, sentient land masses, and weaponized bathrooms, the Jean Grey School still functions first and foremost as an educational facility. In order to keep things moving at an efficient pace, headmaster Wolverine hired Doop – a former cameraman and cold war weapon – to be part of the school's adjunct staff. Now firmly entrenched in the X-Men's day-to-day happenings, Doop often goes above and beyond his duties to protect his new co-workers – even if they never notice it.
As a member of the Jean Grey School's adjunct staff, Doop's daily itinerary varies wildly depending on what needs to be done. He can be seen working the front desk in WOLVERINE & THE X-MEN #1, and a few issues later he helped school janitor Toad out by raking leaves on the front lawn (akaKrakoa's back). Doop played the part of a substitute teacher in WOLVERINE & THE X-MEN #5, falling asleep in front of a very confused religion class.
Doop's importance to the Jean Grey School became clear in WOLVERINE & THE X-MEN #17, a single issue spotlighting all the green glob's multi-tasking and problem-solving abilities. What the rest of the JGS faculty perceived as mere laziness turned out to be exhaustion created by round the clock defense measures enacted solely by Doop. Trash talking nuns, guitar playing devils, adversarial school board members – none of them stood a chance against Doop.
The problem solver stepped out of the spotlight in the following issue, returning to his job as a combination secretary/ detective/ groundskeeper/ substitute/ warrior/ cheerleader. When Kitty Pryde began interviewing Marvel heroes for the vacant headmaster position, Doop acted as an assistant and prop master for each of the applicants. One thing's for sure: without Doop, killer robots from an alternate dimension would have surely destroyed the school by now!
For more Doop action, check out ALL-NEW DOOP #1 on sale this Wednesday!