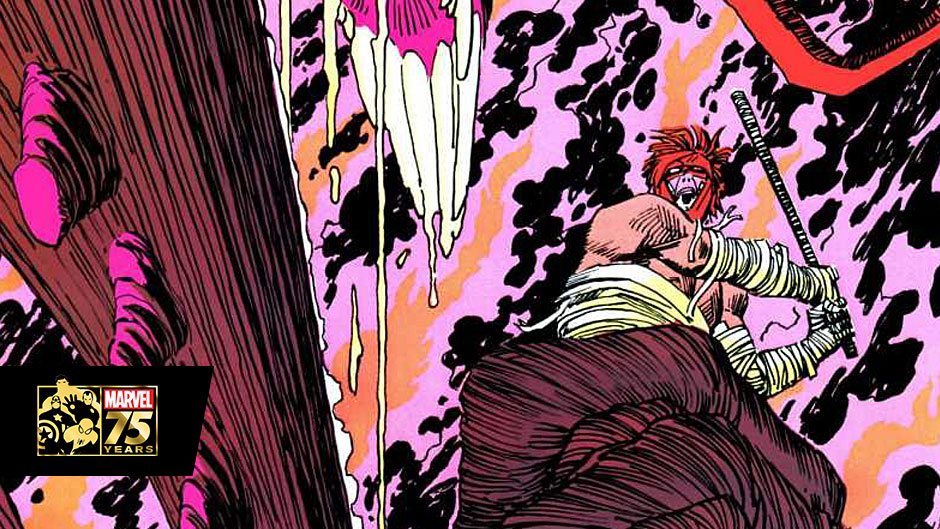 In 1964, Marvel premiered one of its enduring and exciting super heroes, Daredevil. Whether in his secret identity as blind lawyer Matt Murdock or using his enhanced radar senses, DD stood out from the crowd as an unrelenting crusader for justice.
To celebrate 75 years of Marvel, 50 years of the Man Without Fear and the upcoming debut of "Marvel's Daredevil" on Netflix in 2015, we look back on the hero of Hell's Kitchen's remarkable history!
As the 1980's came to a close, Daredevil hit the road once again to find himself—but instead located only new adversaries, new heartaches, and new ways to feel pain.
The year opened with the Man Without Fear gone missing in DAREDEVIL #262, the result of his shattering skirmish with the deadly Typhoid Mary. Matt Murdock's old mentor Stick helped to nurse him back to health, but the city needed their hero during the dark hour of Inferno. When Karen Page found Matt in a hospital in DAREDEVIL #263, she learned of his secret affair with Mary, the "good" side of Typhoid's dual personality.
With New York City burning all around him, Daredevil fought off an attack from The Owl in DAREDEVIL #264, and then gave his undivided attention to the Big Apple's demon infestation in DAREDEVIL #265. Sick of devils the like, DD tried to drown his sorrows in a bar on Christmas in DAREDEVIL #266, only to be plagued with sugary words in his ear from Mephisto, the biggest of them all.
Depressed and beaten down with despair over his seemingly daily defeats, Matt divested himself of all his worldly goods and ditched his hometown in DAREDEVIL #267. First finding a job on a chicken ranch to occupy his time and mind, he continued to drift in DAREDEVIL #268 and managed to provide help to a bed-and-breakfast owner suffering under the illegal activities of his brother.
When Blob and Pyro, two villains playacting as heroes with the government's Freedom Force, attempted to corral a wild mutant in DAREDEVIL #269, Matt stood in their way. Later, Daredevil accepted the help of Spider-Man to confront the menace of Mephisto's son Blackheart in DAREDEVIL #270.
Matt stumbled upon a young woman who worked on her father's animal farm in DAREDEVIL #271, but Skip hid a dark secret: genetic experimentation on both animals and humans. One product of those experiments, the "perfect" girl known only as Number 9, caused much confusion for DD in DAREDEVIL #272, especially when Skip sent the psychopathic Shotgun to make sure Daredevil didn't interfere any more then he already did. Hornhead succeeded in blocking Shotgun's attempt to capture Number 9 in DAREDEVIL #273.
Medusa, Gorgon, Karnak, and Triton of the Inhumans arrived on Earth in DAREDEVIL #274 to search for Black Bolt's son, only to become involved in Doctor Doom's creation of Ultron 13 as an "Act of Vengeance" against Daredevil in DAREDEVIL #275.
Read more DAREDEVIL (1964) on Marvel Unlimited