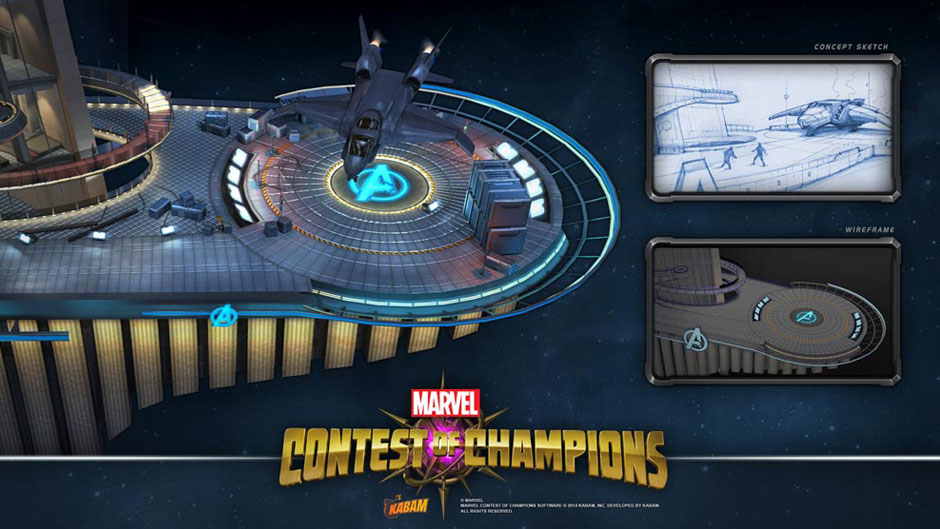 Kabam and crew continue to roll out more and more features for "Marvel Contest of Champions," so we got in touch with Creative Director Cuz Parry and Lead Environmental Artist Adam Cooper to talk about the exotic locations our heroes will be destroying during their epic duels.
Next on the docket: Avengers Tower.
Marvel.com: Avengers Tower is one of the most iconic locales in the Marvel Universe. What were some of the things that needed to be in the map to make it feel like the HQ of Earth's Mightiest Heroes?
Cuz & Adam: We wanted the Tower to appear modern, and full of all the tech and style that Tony Stark would love. Add the iconic Avengers logo, and a bad ass Quinjet, and you're ready for a very classy fight!
Marvel.com: Can you tell us how Avengers Tower factors into the story behind "Contest of Champions"? The Tower is a hub for trouble on the printed page; does that transfer to the digital version?
Cuz & Adam: Without giving away too many of our writer Sam Humphries' story secrets, let's just say that a main character of the game, who is the Contest organizer, has created a "BattleRealm" that will include tons of locations from across the Marvel Universe.
Marvel.com: Can we expect any cameos on the stage? What heroes or villains can might peek in during the battle royales?
Cuz & Adam: Not sure if these count as "cameos," but there are definitely cool Marvel related details in the levels that will resonate with the True Believers out there. I mean, what would the Savage Land be without the odd Sentinel or pterodactyl flying around?
Marvel.com: What is the team most excited for players to see as they duke it out on top of the tower?
Cuz & Adam: Laying a beat down on your opponent and ending the fight by smashing them into the destructible crates on the side of the level. Oh, that and the sweet Quinjet hovering around as you fight.
Keep your eyes peeled for more incredible "Marvel Contest of Champions" news right here at Marvel.com.