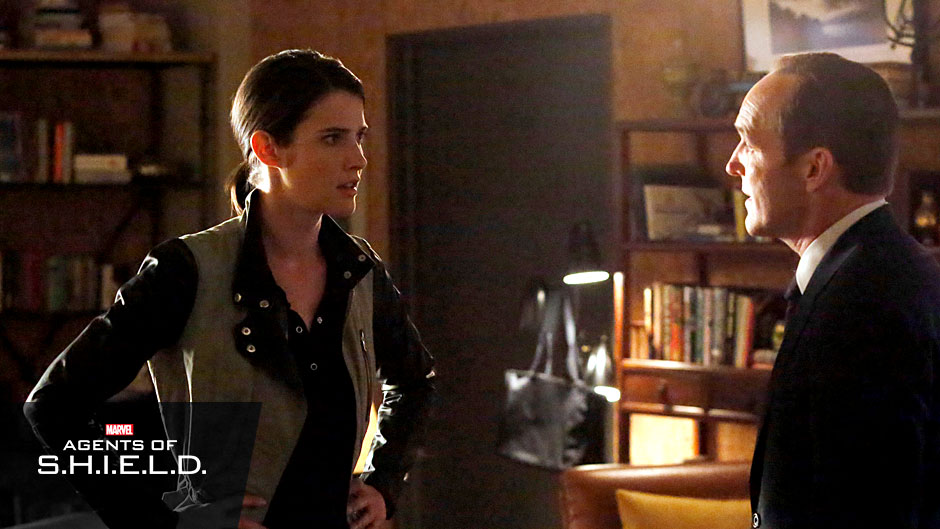 Fresh from her appearance in Marvel's "Captain America: The Winter Soldier," Cobie Smulders is bringing now former-Agent Maria Hill back to "Marvel's Agents of S.H.I.E.L.D." in an all-new episode premiering April 29 at 8:00 p.m. ET on ABC!
Smulders, who previously appeared in the pilot episode of "Marvel's Agents of S.H.I.E.L.D.," first brought Hill to life in "Marvel's The Avengers." Now, with S.H.I.E.L.D. gone Maria Hill has found herself working for Tony Stark…but she'll soon have an encounter with her former colleague, Phil Coulson.
We chatted with series Executive Producers Jeph Loeb and Jeffrey Bell about Smulders' upcoming return to the series, but first we've got your EXCLUSIVE first look at Maria Hill in the upcoming episode! Check it out directly below, then read on to find out more about what brings Hill back into Coulson's world.
Marvel.com: To start off, how did the opportunity for Cobie to come back pop up?
Jeffrey Bell: The good part was her other show just ended. CBS was very kind to share her early in the season, in [our] pilot, and so the fact that "How I Met Your Mother" ended allowed Cobie the freedom to do [this]. I think she really likes spending time with our cast and likes playing that character, so honestly we just had to ask and she just said yes.
Marvel.com: Perfect
Jeffrey Bell: She's been amazing. There are so many people that let us know that they want to come on the show that are in the cinematic universe or just out there, but Maria Hill is such an important character to not only just the Marvel Universe but specifically to the S.H.I.E.L.D. universe. [Especially with] her relationship with Coulson, there's something that's just special and fun [in the] opportunity for two friends to get together with what's happened.
He's the man that desperately believes that you know that there's still good in this organization and [S.H.I.E.L.D.'s] worth fighting for. And as we've seen, spoiler alert, the end result of where Maria Hill is heading at the end of "Captain America: The Winter Soldier" puts her in a different place when these two characters [meet] each other again.
Marvel.com: We've seen a little of how Coulson is taking the dismantling of S.H.I.E.L.D., but what about Hill?
Jeffrey Bell: I think, Maria being the high level person she was, takes the long view. I guess she's very pragmatic, or [at least] playing pragmatic. So when she shows up and we know that she's [working] for Stark Industries, in a certain way I think she's looking for a fresh start and a new way for her to help [the world], a new way for her to be involved, a new way for her to do good. But I think it's a great opportunity for her and Coulson to be in some conflict because he's the guy who doesn't want to let go, and she's the one that's clearly moved on.
Marvel.com: How would you describe Hill's relationship with or view of Couslon over time? Since the events of "Marvel's The Avengers" through our pilot to the present when they meet again post-Cap.
Jeffrey Bell: She's always thought the world of him. They have a really strong bond between the two of them and they both very much believed and believe in this organization and in their relationship with Nick Fury, [but] as a result of things that happen in "Captain America: The Winter Soldier" they come out of that experience with two different conclusions. So that results in tension
Jeph Loeb: And we also have the fact that Coulson now knows that S.H.I.E.L.D. lied to him about T.A.H.I.T.I., and she was at the center of it [and also] a trusted friend. I think that's also a great place to generate conflict.
Marvel.com: Bringing Maria Hill back is always something that I really hear fans clamoring for ever she since appeared in the pilot. Is there any opportunity to see more of her in the future?
Jeph Loeb: Wouldn't that be lovely?
Jeffrey Bell: In our world, we're for it. [But first] we need a second season.
Jeph Loeb: Let's start with everyone who's reading this, please take your S.H.I.E.L.D. badge and mail it to ABC and tell them that you want more S.H.I.E.L.D.
Marvel.com: Anything else you guys wanted to tease upcoming in "Marvel's Agents of S.H.I.E.L.D."?
Jeffrey Bell: It's five [episodes] in a row starting Tuesday night. Big show, more surprises, secrets revealed, guest stars like Adrian Pasdar coming on as Glenn Talbot, and Patton Oswalt's coming on as Eric Koenig. And again, we're not done, there are still some great surprises that we have up our sleeve that we look forward to telling all our fans and viewers on Marvel.com.