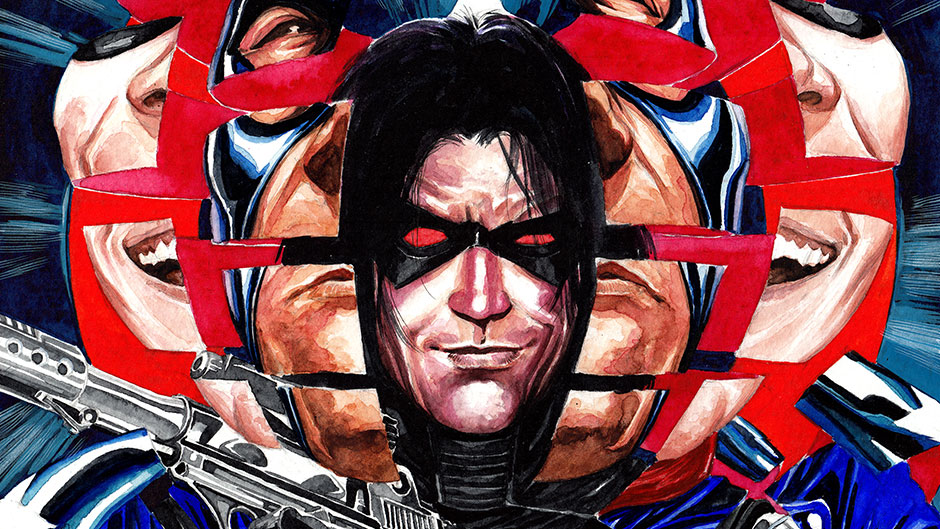 This week, the one-time partner of Captain America and a former shield-slinging Sentinel of Liberty gets a new lease on his ever-changing life in BUCKY BARNES: THE WINTER SOLDIER #1, from writer Ales Kot and artist Marco Rudy.
While much of Bucky's new mission statement and responsibilities spinning out of Original Sin remain shrouded in secrecy, we asked you to submit your most burning questions on Twitter @Marvel using the hash tag #MarvelCreatorChat and filed them with Ales Kot. Find out what the Winter Soldier's latest handler had to say about enemies, adversaries, and much more—even Nick Fury!
Begin transmission…
@Cimikat
Will any story elements from the last WS solo continue in this series? Relationships? Villains?
Ales Kot: Yes! Thematically, everything that happened in Bucky's life is a part of it—so we have a rich history to work with, and we start right with the opening page of issue #1! As for the relationships—new ones will come quite fast, and old ones will be likely mentioned, people—and other races—even making an appearance here and there.
@animusleonis
what makes the new winter soldier series different from other marvel projects?
Ales Kot: It's a fully painted space adventure about a haunted man venturing into the unknown and discovering just how vast the Marvel Universe can be!
@notahipster
are we seeing any other Avengers or characters in this series?
Ales Kot: Yes, plenty! Namor in issue #1, Loki in issue #2, Crossbones is coming, and so on—plenty more. Some new, some I don't want to mention in advance, because that would say too much about the story.
@bands1998
what is your favourite thing about Bucky Barnes? What inspired you to begin?
Ales Kot: I like that Bucky doesn't give up on life. He went through so much—and now he's facing a new, unique way of being. He's no longer just a survivor, that's not the story of his life now—he wants to live. So he leaps into this adventure, which inevitably proves inspiring and evolutionary. What inspired me is precisely that: the choice to leap into the unknown and go on an adventure not knowing where the next step will lead me. All I know is I have the universe, and so does Bucky.
@starglooms
will this be good for someone who hasn't read any comics about bucky before?
Ales Kot: I wholeheartedly believe so, yes. You might feel a bit lost at the beginning—but if you will trust us to lead you through, I believe we will do our duty incredibly well.
@Erin_Salas
will we be getting more solitary, man on the run Bucky or will he be part of/leader of a team?
Ales Kot: Both! A lot of this series is about Bucky learning to live by combining his previous approaches. As he expands through his adventures, so will his social circle—and some rather solitary paths present themselves at the same time.
@Cimikat
Last time we saw Bucky & Daisy together they were with Bobbi Morse. Will she show up? #TeamFreeAgents
Ales Kot: Maybe.
@Dragonops
What did you think of the design of the Winter Soldier in ["Marvel's Captain America: The Winter Soldier"]?
Ales Kot: Loved it! I wanted us to consciously integrate it into our design, because it's beautiful.
@claraoswalded
I know it's in space but is there a chance Natasha romanoff will make an appearance?
Ales Kot: There is a chance, yes!
@595moore
Now that Bucky is the new 'Man on the wall,' will he (and we) learn of Nick Fury's & Woody's past adventures as 'Men on the Wall'?
Ales Kot: There's so much to explore in Fury's past—I believe it will happen sooner or later, yes!
Get even more answers—plus plenty of questions—in BUCKY BARNES: THE WINTER SOLDIER #1!